Handmade with smooth Belgian chocolate and the finest ingredients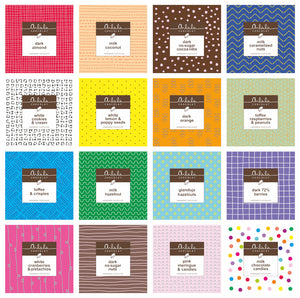 chocolate bars
Our chocolate bars come in sixteen different flavors. Each bar is the result of endless hours of degustation in order to reach the ultimate flavor that will stimulate your brain with feelings of pleasure and happiness.

The combination of great ingredients harmoniously mix with the finest Belgium chocolate and together they feature familiar flavours, twists on classic combinations and the chance to savour the unusual.
melts
These little soft chocolate bites are out of this world!
Just let them slowly melt into your mouth and experience an unforgettable moment.

Oh la la chocolat  melts come in different shapes and flavours.

Each one of these little soft chocolates is individually hand-rolled to perfection and packaged with care especially for you!